Welcome !
For a pleasant accomodation in Sicily, near Mt. Etna,
you have come to the right place. Enjoy your visit !

The Etna Bed & Breakfast
Located in Belpasso, a typical sicilian town that lies on the mountainous slopes of the volcano Mount Etna and close to the city of Catania.
Our position is conveniently central offering an ideal opportunity to visit a vast range of tourist attractions within the vicinity such as Mount Etna, Medieval Norman Castles, Fortresses, Monuments, Ruins and Museums, not to mention beautiful beaches and amazing restaurants which are all part of the magic on this island.
Situated only 15 minutes from Etnaland attraction park and 10 minutes from Etnapolis Hyper market.

Recently renovated eighteeth century sicilian noble construction where the antique floors, voltaic ceilings and terraces can be admired. Our guests may also make use of our lounges, outdoor terraces, dining area and kitchen.
All rooms are very spacious, air-conditioned and provide a private bathroom, TV and WI-FI.
The necessary comfort that one may desire away from home in a relaxed and comfortable environment.
ETNALAND Attraction Park
Themepark . Acquapark . Prehistoric Park

Get ready for a wonderful adventure at Etnaland! Fasten your seatbelts and get ready to fly..!
Etnaland is one of the largest amusement theme parks in southern Italy. The park is made up of three themed parks with enough attractions to allow visitors to spend a whole day full of fun in outdoor recreation. Only 15 minutes away from our B&B!
Discover the Volcano: Mount Etna

Surrounded by nature in all its beauty, Mount Etna attracts thousands of tourists from all over the world! The 3323 meter high active volcano can be visited from our location via Rifugio Sapienza - 15km from ETNA B&B in Belpasso.
From here you may proceed on foot or opt for a guided trip on a off-road vehicle or take the Cable Car (FUNIVIA) to reach the summit. There is plenty to see like the solidified rivers of lava and spectacular views plus souvenir shops, old fashioned houses and restaurants.
Don't forget to dress accordingly for mountain climate conditions as it can get quite chilly up there!
SHOPPING MALLS

ETNAPOLIS
The gigantic shopping mall situated in the territory of Belpasso is indeed an enormous city of commerce. An ideal place to pass some time shopping with family and friends. Only 10 minutes from our B&B.
IKEA
One the world's largest furniture retailers. The company is known for its modernist designs for various types of appliances and furniture, and its interior design work is often associated with an eco-friendly simplicity. Only 30 minutes from our B&B.
CENTRO SICILIA
Offers about 140 stores in 4 different dedicated malls; Piazza dei Sapori (food court); Hypermarket; Leisure area and Magicabula, an area for kids.
Quality commercial offers with important brands like Apple Store and Iperceramica, but also Pittarello, Tommy Hilfiger, Sephora, Zara, H&M, Harmont & Blaine. Only 25 minutes from our B&B.
Etna International Motorcycle Rally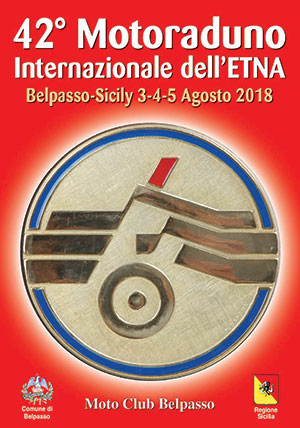 The Motoraduno Internazionale dell' Etna takes place here in Belpasso in August once a year. This event has become popular amongst bikers and motorbike enthusiasts all over europe.
The event has gained international recognition and gathering participants and visitors from around the globe. For specific information regarding the event refer to the official website.
La Madonna della Roccia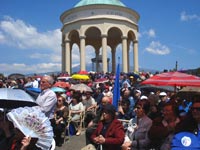 The Holy Virgin miraculously appeared to a 15 year old boy, Rosario Toscano, on the 11th of may 1986, once upon a rock, (hence the name Madonna della Roccia, in italian) by the countryside on the outskirts of Belpasso.
Today it is a place of worship and there lies a beautiful sanctuary. The celebration is held on its anniversary every year.